Treatment options for squints
Treatment for a squint usually involves some or all of the following:

• Treating lazy eye ( amblyopia)
• Wear glasses to correct any refractive errors in either or both eyes.
A child diagnosed with squint has to be properly examined.

Vision, need for glasses (refractive error) and a complete eye examination is necessary. The spectacle power and degree of squint will be examined until adulthood. If any residual squint remains with eyeglasses, it must be corrected surgically. The lazy eye is to be treated by patching or occluding the good eye or with Orthoptek exercises which is a new development in developing the stimulation of Macula ( the best seeing part of the eye). This will help weaker eyes focus on visual activities such as reading and color identification while the patch is on.

Squint surgery is required when all conservative methods of treatment are not able to correct it.

The success rate of squint surgery is very high in good hands. The patient will undergo a comprehensive eye and physical examination before the eye muscle surgery. The doctor will also take some eye measurements to determine which muscles are stronger or weaker. To treat different types of squint, the doctor makes an incision in the membrane that covers the white area of the eye called the conjunctiva. After getting access to the eye muscles, the doctor will either stretch or shorten them for realignment, depending upon the squint type. Squint surgery takes 90 minutes.


Botulinum toxin or Botox injections are used to treat squint.

In certain types of squint, particularly those that turn inwards, Botox injections are sometimes used as a treatment, as an alternative to surgery. Botulinum toxin, also known as BOTOX, weakens muscles temporarily. It's useful in conditions where it is helpful to weaken muscles to prevent them from pulling the eye and causing it to squint. However, botulinum toxin injections are not commonly used in children.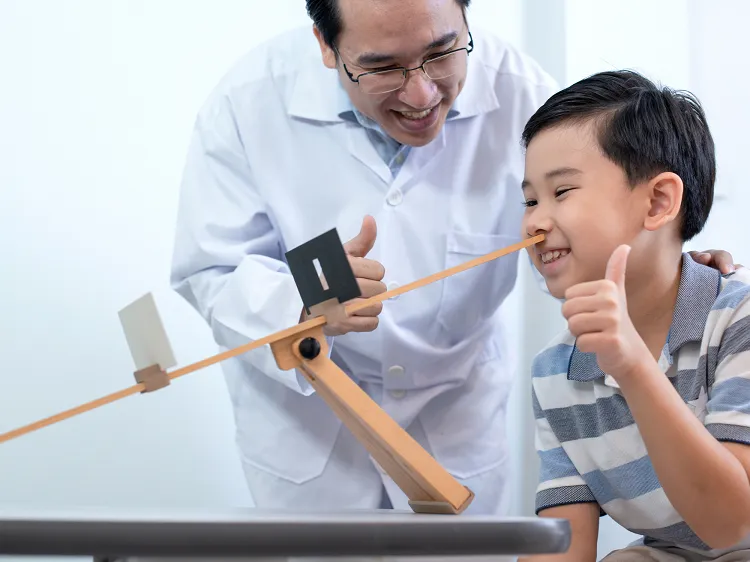 Vision Therapy

Vision therapy aims to develop or improve visual skills and abilities. It consists of trained exercises performed over weeks to months with lenses, prisms, patches or balance boards. It focuses on improving visual skills in amblyopia and many binocular vision anomalies. Vision therapies do not correct refractive errors such as myopia. The latest therapy is called ORTHOPTEK EXCECISES and it is highly successful in improving vision and treating squint..


Vision therapies are classified as follows:

• Orthoptic vision therapy: this is standard vision therapy, focusing on binocular vision and eye movements. It focuses on eye strain, headaches, squints, double vision and reading.
• Behavioral vision therapy or visual integration vision therapy aims to treat problems including difficulties with visual attention and concentration and sometimes it helps in children with attention deficit syndrome.
In adults, the management of squint is different. If it does not improve with glasses, the treatment is surgical. The results of this therapy in adults are not as encouraging as in children, but most patients benefit from the glasses.


Treatment of squint hinges on four strategies:

• Restoration and correction of vision with glasses, where needed.
• Correction of deviation of eyesight for cosmetic reasons.
• Correction of deviation for functional reasons such as restoration of binocular vision.
• Prevention of double vision

You have to take rest until you recover from the surgery, which could be a few days. Also, initially, you might have to wear glasses for a period of 1 week. You have to avoid swimming for a few weeks.